Trail section
3. Storås - Jennylund
Length

11 km

Elevation

139 m

Degree of difficulty

Moderate

Estimated time

2-4h
Markus Holm
The feeling of mountains and mountain-fresh air gives peace and a rare calm. Having this nature so close to Gothenburg is a blessing. Vättefjäll is a large mountain plateau full of heather, coniferous forest and lakes. The word vättle has to do with wet and water, and the large number of lakes, bogs and smaller watercourses prove the origin of the word. During the 18th and 19th centuries, Vättlefjäll was largely a single large heather, where bare rock outcrops stood up. The name "fjäll" derives from this time.
It is easy to relax on your trip along the route Vättlefjäll. In the west, Vättlefjäll borders the Göta Älv river valley, in the southwest the Rannebergen and Lövgärdet and in the south the Lärjeån river valley. In the north and east, forest areas in the municipalities of Ale and Lerum connect.
You follow the pilgrimage route Göta Älv river's course through nature and also have several marked paths to choose from. This is a place you can discover multiple times or just return to to catch up with yourself. For canoeists, there are canoe trails and you can spend a day or two on the lakes. Several wind shelters enable resting and spending the night in the open air. When you reach the municipality of Ale in the forests, there is a white marker that takes you towards Björsjöås and its residents. This is a longer detour of nearly 7 km and booking for accommodation is required in advance. Check before for the best information. A fishing license is required in most lakes and in the Göta Älv river. Large areas are protected as nature reserves. You can connect from the south via Storån/Angered and Rannebergen or from the north via Jennylund as a half day stage or as part of your longer hike. Whatever you do, you will enjoy it. Welcome to the Vättlefjäll route.
Surface: Forest path, asphalt, dirt road.
Time: 2-4 hours excluding breaks.
Don't miss: Wild Vättlefjäll.
Get here: Tram 9 or 4 towards Angered Centrum, go to Lärjeån via Ekevadsvägen and Gunnilsevägen.
Accommodation: There are no specific suggestions for accommodation along the stage, but there are many accommodation options to choose from in the digital map.
The Pilgrimsleden Göta Älv has developed in a collaboration between: the City of Gothenburg, the Association of Property Owners in Gamlestaden, Gamlestaden, Ale Municipality, Lilla Edets Municipality, Trollhättan City, Vänersborg Municipality, Västra Götaland Region, the Church of Sweden, the Pilgrims Center in Gothenburg, Visit Trollhättan Vänersborg, the Tourist Board of West Sweden and the West Coast Foundation.
Vandringsled
pilgrimsled
Pilgrimsleden Göta Älv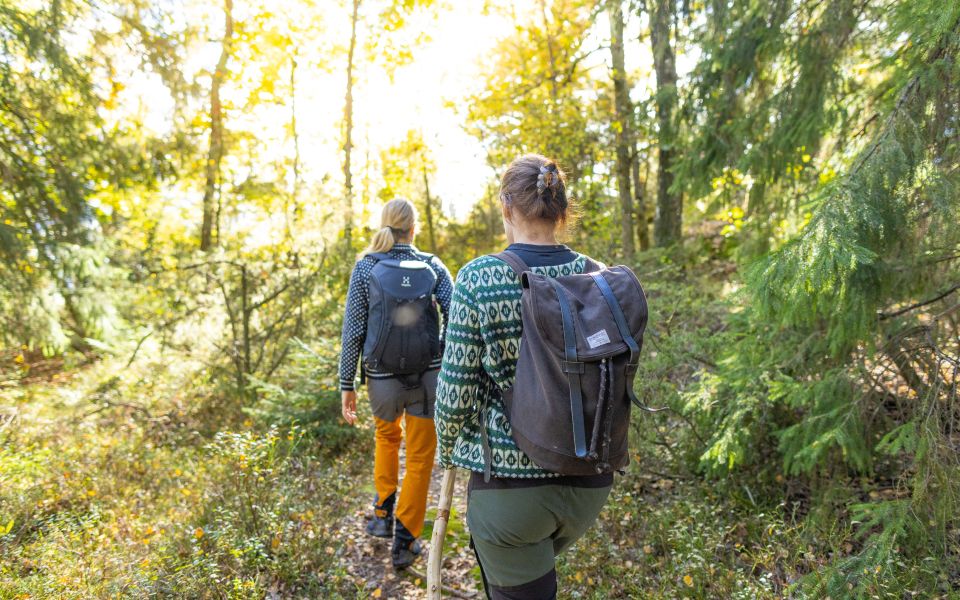 Highlights along the section
Click on a point of interest below to see what you can discover along the trail.
Tour suggestions and information
Find selected suggestions for tours, information and inspiration!
Show all
Share your experience
Share your experience by tagging your photos.